Written by designfolder on October 16, 2009 – 8:40 am -
Last week's design speak (scandinavian design) was fairly easy. But during last saturaday's meeting, Ms. CFO pitched in a challenging topic for the section–art nouveau! All i could remember about that period style is Antonio Gaudi and his "skeletal" forms, tiffany lamps, and the Whiplash motif (yes, images of the Whiplash Dancers in a variety show made me remember that, haha!). This means I need to do some notebooks-and-handouts digging. Blag.
Art Nouveau ("new art") was a radical design movement that started in the mid-1880s as a reaction against the plainness of the Arts and Crafts movement. (maybeI'll do another post on the arts and crafts movement for design speak next time)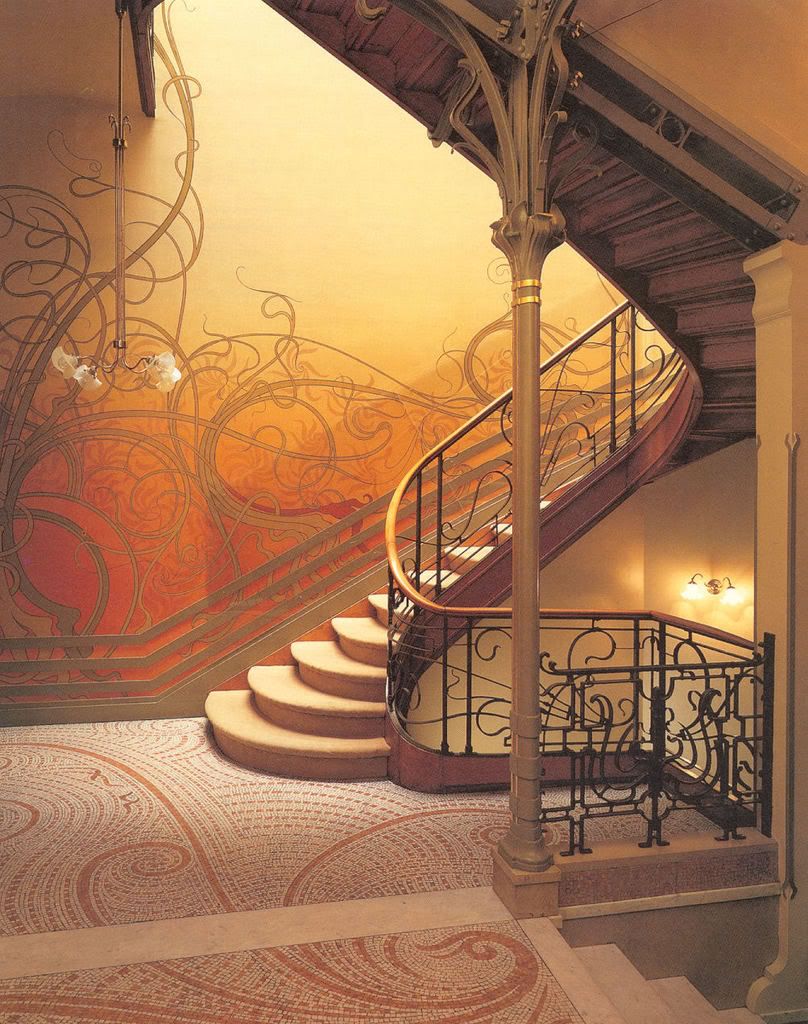 But like the Arts and Crafts movement, Art Nouveau embraced the idea of avoiding historical allusions in favor of creating new forms through abstraction and stylization. In contrast, Art Nouveau is more feminine being fluid and curvilinear in form, using sinuous lines often referred to as the Whiplash motif. It turns to nature, particularly plants, to find basis for their design and decoration. It also favored the use of machines in creating their designs, which allowed them to use cast iron and come up with complex forms in bigger applications.
Some critics say that the movement was not able to produce a real architectural style, only highly decorated structures. Instead, Art Nouveau flourished in the designs of interiors, fine arts, and the applied arts. Aside from the whiplash curves, Art Nouveau is also noted for adopting oriental motifs.
For architecture and interior design, Antonio Gaudi is one of the more popular names associated with Art Nouveau. His design for the Church of the Sagrada Familia is a noted Art Nouveau piece.
His furniture pieces are also quite interesting, very biomorphic in appearance. I remember my professor pointing out that his designs often resemble the skeletal form.
Of all the designers from this era, I think the most famous name is Louis Comfort Tiffany. Who doesn't know the tiffany lamp? His workshop, Tiffany Studio, was the one who created and popularized the series of stained glass lamps. They are still popular right now especially for period style  and eclectic interiors. However, art historians recently found out that L.C. Tiffany was not the one who personally designed the Tiffany lamps.
Today, the style is rarely used as the main design theme for an interior because, even before, it has appealed only to a select few. I guess too many swirling lines can make anyone dizzy! The application of the style nowadays is usually limited to the design of grilleworks, furniture, and accessories.
There you go. My Cliff Notes version of Art Nouveau!
Tags:
antonio gaudi
,
art nouveau
,
design speak
,
design terms
,
victor horta
Posted in
design speak
|
1 Comment »